Custom Home Builders in WA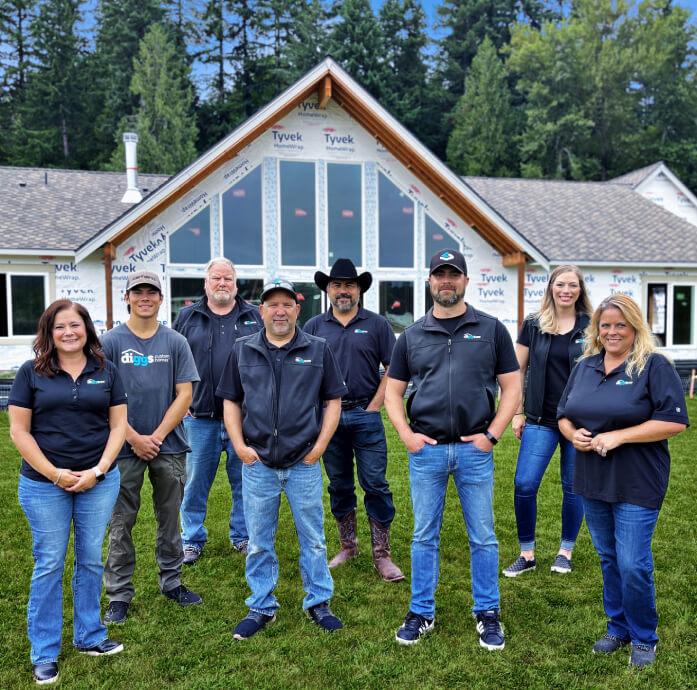 Who We Are
We are a Pacific Northwest Custom On Your Lot Home Building team that values quality, transparency, and superior customer service. Our combined experience offers expertise in planning, permitting, design, and every aspect of homebuilding. We love building beautiful things and having fun with our customers in the process.
120+
Years Construction Experience
30+
Years Land And Development Experience
You Choose From 9 Categories of
Better Designed, Beautiful Homes
SMALL DIGGS
Modern Mountain
DESIGNER DIGGS
Modern Farmhouse
Daylight Basements
Multi Genrational
Garage
Bring Your Own Plan
Full Custom
Testimonial
I just had the pleasure of doing business with Don on a $1M+ site and previously in 2018 on an 18 unit development site. His in-depth understanding of the different components involved in site selection, due diligence, navigating through the department of community development, and real estate transactions make him a valuable resource for anyone looking to buy land or build a home. Don and his team had excellent communication from beginning to end and I look forward to doing business with him again in the future.
Every person that I interacted with at your company was responsive and customer focused!
Integrity, enthusiasm, and honesty drew us to Diggs Custom Home.
Hard work, excellent communications, and outstanding craftsmanship are how Diggs Custom Home paid us back for trusting them to build our new house.
We are extremely happy, and positive that we made an outstanding choice using Diggs Custom Home for our new house build.
Diggs Custom Home Floor Plan flows conveniently and functionally; it's outstanding to have a brand- new beautiful home, everyone loves the kitchen!
Diggs, thank you for providing us with such excellent value!
Don and Kevin were extremely helpful as I evaluated the possibility of building a home on Anderson Island. They were knowledgeable about the associated permitting and logistical issues, transparent about costs, and flexible in their approach as we discussed my options. While we're not going ahead with a build at this time, we very well may in the future, and Diggs Custom Homes will be the first folks we contact at that time. Thanks, Diggs folks, for a very positive and helpful consult.
I have been communicating with Don for about a year now on a possible build. I stopped by his office and was able to sit with him so he could help me visualize what was possible on my property. Don even took time to stop by my property and take a look so that he could better provide me options. I can say i am very happy with his customer service so far and plan on doing a possible build with him in the near future.
Can't adequately express how outstanding Diggs has been for us so far. Don's knowledge has been invaluable and, with us being new to the process, we would have lost out on an amazing piece of property without his insight and guidance. His knowledge is exceptional and his communication clear and patient … exactly the qualities you want when undertaking a process like this. The pricing model is unique and upfront with surprisingly reasonable estimates for upgrades; such a peace of mind knowing we won't be nickeled and dimed the entire way like with other builders we've inquired with. Janell has been so responsive and personable with all our inquiries, great experience in every way so far!
Don and Sara Leske and I were in Business with 3-1 acre properties together. The Leske's were honest and very helpful And we're helpful in solving problems and finding solutions to make the development Of the properties go smoothly.Was a pleasure doing business with Diggs Custom Homes.
Diggs Custom Homes went out of their way to help us navigate the area for an ideal piece of land for our new real estate investment. 10/10 would recommend.
I really enjoy working with Diggs Custom Homes. A cost plus fee system is unheard of in the Residential Home Building Industry. Love their plans too. Keep up the good work Don and William.
We've been looking for quite some time to build a custom home on an acre or two of land and stumbled across Diggs Custom Homes. Although we haven't pulled the trigger yet on the build we are happy to know that we have found our builder! Their communication has been impeccable and their knowledge is amazing, especially the new ideas and out-of-the-box thinking. They had some very fresh floor plans which we had not seen before, the floor plans can start to get pretty cookie-cutter after a while when you do your research. If you are looking to build a custom home or have challenging land to build on, this is your builder!
Heard alot of good about this company/builder!
I spoke with Ron about various different options and he is very knowledgeable with everything!! When the time comes for us to build we will definitely consult with Ron!! Customer service clearly a huge deal with these guys!! Thank you Ron for your patience even knowing we weren't ready to build yet! 5 stars well deserved!!